Working in Riga: Spaces and Communication
Planning an assignment in Riga? Here are some directions and the list of working spaces that you can use for interviews or as filming locations.
To remember working in Riga as a nice experience you have to prepare. Riga's cafes are OK for getting some small tasks done, or conducting simple interviews, but planning a filming or audio recording in a local cafe is not advisable. Most of Riga's libraries are free of charge and you can visit them just with your ID. However, some of them are open just four or three days per week. Libraries do rent quiet rooms perfect for one-on-one interviews, but the service is not good enough for complex filming sets. Thus, below there is a selection of coworking locations suitable for group interviews, or as filming locations.
Communications
Wifi for public use is available almost anywhere: eateries, supermarkets, and many public spaces, including city transport. It is usually password-protected.
If you need a SIM card with a Latvian extension – prepaid sim cards are easy to find in any kiosk or grocery store. They cost just a few euros and purchasing doesn't require a document.
Public libraries
Riga Central Library, 49/53 Bīivības St., is a municipal library based in a soviet-times building. It offers some private workrooms and hosts the European Union Information Center which could be a nice background if you are looking into an EU-related topic.
National Library of Latvia, 3 Mūkusalas St., also known as the Castle of Light is a new modern library with lots of services and different private and shared workrooms, including the audio recording studio.
The SSE Riga Library, 4A Strēlnieku St., is a small library of the Stockholm School of Economics in Riga. It offers resources on economy and marketing and is the right place if you are looking for a room where you could work alone, but it is not suitable for meetings.
The Library of the University of Latvia at 19 Raiņa Boulevard is the only branch of the vast network of University's libraries that offers quiet workstations. Other branches are listed here.
Coworking spaces suitable for journalists
Workland is a generalist coworking space business with a wide variety of spaces in two locations in Riga. It offers a flexible pricing policy, including a free trial day. Also present in other Baltic capitals.
OraculeTang Space, 2 Doma laukums, is a hip coworking space in the Dome Square that is the very heart of Riga's Old Town. It offers day passes and a trial day and is perfect for one on one interviews.
Teikums, 78 G.Zemgala St., is a coworking and event space further away from the center and is a perfect location for a group meeting or a bigger filming set.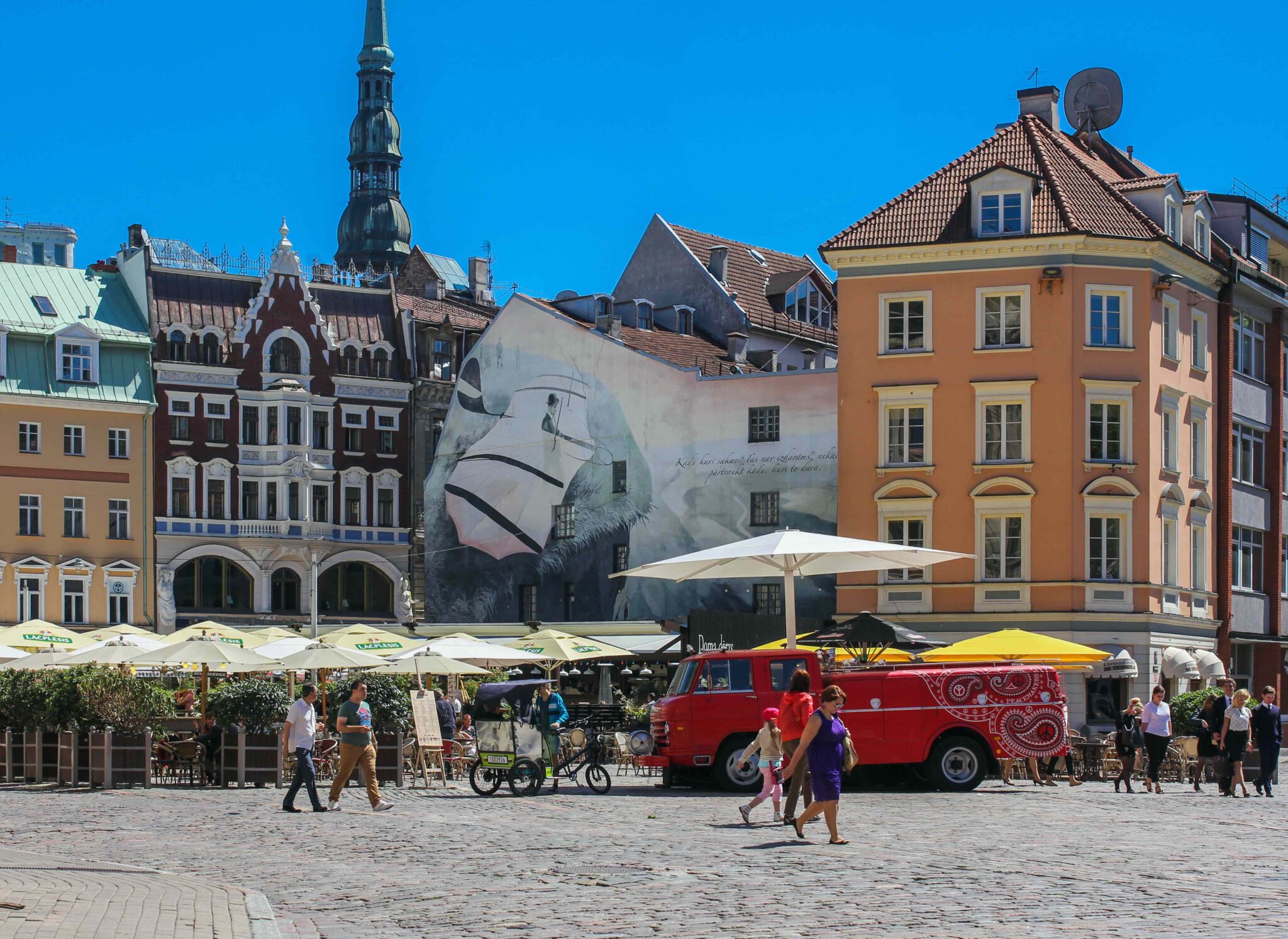 Double9, 18a Šarlotes St., is a small, budget coworking space. It offers shared desks and some meeting rooms with flexible fees, including a day pass. Its spaces can be booked online.
Local transport
Buses, trolleys, and trams are the cheapest means of transportation. It is the best way to peek at the everyday lives of locals in Riga. Digital tickets are available on several applications, the official one being Rīgas Satiksme.
Alternatively, choose from Bolt and Fiqsy scooters, Nextbike bike-sharing services, cab applications: Bolt, Uber, plenty of international and local car rentals, and car-sharing options: Citybee, and Fiqsy.
What are Resources for?
The section above is designed for news and documentary makers working in the Northeastern border area of the EU. However, it can be used by anyone consenting to privacy policies and adhering to journalistic standards. Local stories, fact sheets, and forecast reports are free of charge. In the near future, we will be collecting a small fee for accessing reports to be able to improve the service further. At this phase, we offer two or three original publications per month and invite you to reach out to us with questions and feedback.